June 1st, 2007 by admin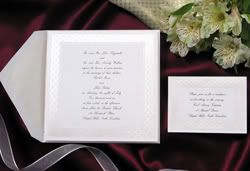 Wedding Etiquette becomes an even more complex matter when this is going to be the second marriage for either or both the bride and groom.
Still, that's reality these days. I know this well. Both of my sisters have been married twice (with their second marriage going strong, thanks).
But let us shape this quandary into a scenario that some of you can directly relate to. Let us say that unlike in the new tv show "Starter Wife," the wedding you are planning is the second marriage for both of you. And let's also assume that you are both coming to this marriage after a number of years in the workforce, and with quite a few material possessions to your name.
If that's the case, you may feel you really don't need any gifts.  That may be your wish, but you want to find a way to properly let your guests know that?
Our wedding expert Debby has some advice for you.
There are two acceptable ways you can do this," Debby says. "You can indicate as corner copy in the lower right-hand corner of the invitation, 'No gifts please.'
"But the preferred way is to have a small enclosure card which states: 'Your presence is the only gift we request.'
Then Debby gets into the sensitivities that just may be involved.
"Just realize that even though you may not feel that gifts are necessary, many guests may feel that they are and/or see it as an opportunity to share their love with you," she writes. "If you are older, they will not be giving you the same type of gift that they would give a younger couple. You may actually be pleasantly surprised at their gift.
"The decision has to be yours however if you want to mention, 'No gifts please.' "
And remember what they say about love being better the second time around.